Top Internship Movies You should watch before You Graduate
Wondering how watching a movie can help you prepare for your internship or graduation? Well in reality, it wouldn't. But some movies have the power to inspire you in ways you might have never thought of. Sick of someone bullying you constantly or unable to take the career plunge? Well, you might not get a solution to your problem but these movies will surely give you a thought process to follow.
Here is list of top internship movies you should watch before you graduate
The Internship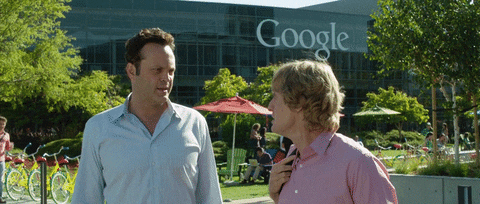 What would you do if you suddenly find yourself jobless and unable to cope- up with the changing technology? Clearly, giving up is not a choice and that is exactly what 'The Internship' is all about. A story that shows the journey of two 40 something men who attempt to compete with more technically-skilled and way younger applicants in order to get an internship with Google. The movie emphasise the fact that it is never too late to learn something new and highlight the importance of keeping yourself updated with the latest technology.
If for nothing else, watch this movie to have a peek into Google's working culture.
The Intern
In the age of young entrepreneurs and Internet start-up, the movie takes you through the journey of 70-year-old widower Ben Whittaker (Robert De Niro) who chose to become a 'senior intern' with a start-up post-retirement. The movie tells you the wonders that can happen when the millennials energy gets the guidance, wisdom and experience of a 'senior' intern. A beautiful integration of two generations where they keep aside their differences to help one-other explore their strengths.
The Whiplash
'Follow your passion' is what you often hear around and this movie is a peek into what it is really like to do it. In Whiplash, Miles Teller plays an aspiring musician and the movie shows his journey to achieve a career doing something he loves. The movie motivates into following your dreams even if it means walking on tough roads before achieving something
Get motivated by Andrew who is willing to put himself into anything to be an 'artist'
The Devils Wears Prada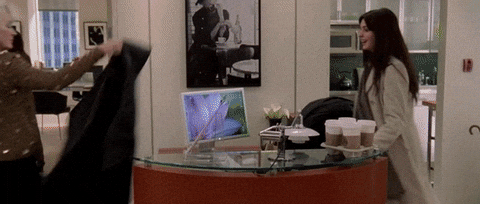 Andy a smart new graduate believes that she knows better 'in' fashion than everybody else. Until she lands a job as an assistant to Miranda Priestly in a high fashion magazine. The movie will tell you how sometimes you will have to keep your pride aside and work tirelessly to prove your worth. You will have to keep giving your best until you achieve the position you desire. As an intern, this is an important life lesson that is going to take you to great heights.
The Pursuit of Happiness
My favourite of the list, the movie is loosely based on the true story of Chris Gardner, a struggling salesman who makes it big with his never-ending hard work, courage and perseverance. Many millennials who complain about how life is 'tough' on them are surely going to get a reality check about the intensity of the problems they have. Life is not always easy but when you walk through the tough path, you only become stronger. Just life Chris Gardner never lost hope despite having left with nothing, we too should get going to achieve our dreams. And when you achieve something through your hard work and persistence, the happiness you feel is unmatched.
The Social Network
We all love 'Facebook' and 'Mark Zuckerberg', and while not everyone can be a big shot like him, this movie will surely motivate you to follow your dreams. No idea is too small to pursue and if you have one, work your ass off to make sure you 'tried'. Even if you fail, you will gain experiences lasting a lifetime. Especially, when you are still a college student and have an entire career span ahead.
3 Idiots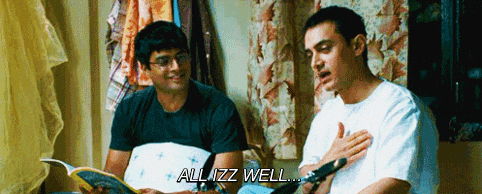 'Kaabil bano bacha, kamyabi jhak maarke peeche aayegi'! In a country where we are infamous for following the rat-race, this movie is like a breath of fresh air. You will realize that not everything our parent say is right. Make your own path and walk in it like it a 'pro'. It won't take long before you will see people following your footsteps and that is what is called success, in real terms.
So grab some popcorn and get ready to be motivated.
Also check out: 14 Common Misconceptions About Internships
: